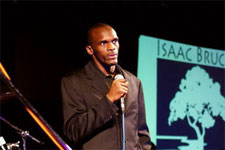 Holiday Gala Recap
On Monday, December 4, 2006, Rams' wide receiver Isaac Bruce hosted his first fundraiser for the Isaac Bruce Foundation. The Isaac Bruce Foundation focuses on health, wellness, nutrition, fitness and education. Through the foundation, Isaac reaches out to youth and teaches them at an early age the importance of a healthy lifestyle.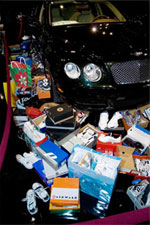 The Isaac Bruce Foundation Holiday Gala raised more than $72,000 in its first year and featured healthy and organic tasting stations from some of St. Louis' top restaurants including Brio Tuscan Grille, Chocolate Cafe and Coffee House, Gian-Tony's, Fleming's Prime Steakhouse & Wine Bar, J.Buck's, Jamaican Irie, Joe Boccardi's, Orlando Gardens Catering, Shmeers Cafe, Serendipity, Stir Crazy, Trader Joe's, Vin de Set, and Wild Oats Market.
The event also featured a performance by Last Comic Standing's Ty Barnett, music by GrooveThang, and a live and silent auction featuring unique memorabilia, trips and experiences. The auction included items from Reggie Bush, Warrick Dunn, David Eckstein, John Elway, Brett Favre, Matt Leinart, Peyton Manning, Dan Marino, Danica Patrick, Albert Pujols, Jerry Rice, Tiger Woods, and Steve Young just to name a few. In addition, Isaac auctioned off a "private clinic for 10 kids at Rams Park" in the live auction, some game-worn memorabilia, FOUR FRONT ROW seats with pregame field passes to the Monday night game against Chicago on December 11, an in-studio visit to Fox 2 for the Coach Linehan show taping on Monday, Dec. 18, as well as some great trips!
Since it is the season of giving, each attendee was asked to bring a pair of new kids' shoes to the event. The shoes were collected and donated to Neighborhood Houses to give needy children the opportunity to be active.