NEWS
Isaac Bruce serving as spokesperson for National City "Real Men Wear Pink" breast cancer campaign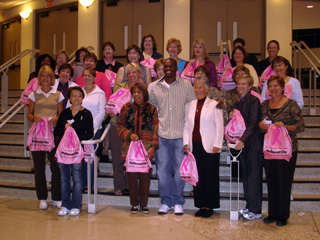 The "Real Men Wear Pink" campaign is part of National City's comprehensive program to fight breast cancer and features Rams' wide receiver Isaac Bruce as spokesperson. On Sunday, October 7, 100 breast cancer survivors will be honored at a halftime ceremony of the Rams game. A survivor reception for those attending the game will be hosted on October 2, where Bruce will be making an appearance. Survivors can be nominated by going to NationalCity.com/StLouisNomination
In addition to the halftime ceremony, Rams fans are being asked to "Bring a Buck" to the October 7 game to aid in the fight against breast cancer. All money collected will be donated directly to National Breast Cancer Foundation.
"There are two million breast cancer survivors in America—enough to fill the Edwards Jones Dome thirty times over," said Bruce. "The survivors we're honoring are a small handful of those who command our respect and admiration."
For more information on the Isaac Bruce Foundation call 314-369-4074.