NEWS
St. Louis Public School's Gateway Institute of Technology
On Friday, May 23, Isaac Bruce made a surprise visit to St. Louis Public School's Gateway Institute of Technology. He walked into a room where senior Melody Chambers was working away. He went straight toward the college hopeful and presented her with the 2008 Isaac Bruce Foundation Scholarship in the amount of $5,000. Melody expressed that she had plans to attend Rockhurst University in the fall but had been $5,000 short of the amount needed to attend the school next year. It seems the Isaac Bruce Foundation Scholarship had come at the perfect time.
Melody Chambers was selected from a competitive applicant pool of more than 20 applications. In order to apply, students must be college bound high school senior from a St. Louis Public School and must have minimum cumulative GPA of at least 2.0 (on a 4.0 scale). The application included a typewritten personal ssay (500 words or less) on "How the Isaac Bruce Foundation Scholarship Will Assist Me in Fulfilling My College Goals", student biography, academic record of achievement, personal recommendation from two sources, and proof of acceptance and enrollment at an accredited college or vocational school.
As a senior at Dillard High School in Florida, Isaac Bruce was active in his community and school. His grades were not high enough to qualify for most scholarships but he knew he wanted to further his education. He attended West Los Angeles College and Santa Monica College before transferring to Memphis State in 1992 on a football scholarship and went on to have a successful career.
Isaac epitomizes greatness both on and off the field. Off the field, Isaac is one of the classiest and most giving athletes in the NFL. Isaac truly makes a difference in people's lives through his work with local schools and by donating his time and money to various charitable causes. He launched the Isaac Bruce Foundation in 2006 which focuses on health, wellness, nutrition, fitness and education. Through his foundation, Isaac reaches out to youth and teaches them at an early age the importance of a healthy lifestyle. It is Isaac's hope that this scholarship will afford a St. Louis Public School graduate the opportunity to further their post-secondary education.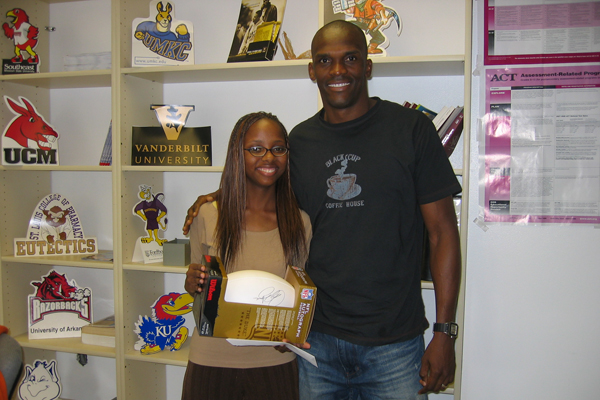 For more information on the Isaac Bruce Foundation call 314-369-4074.