Reach Out St. Louis Appearance
On Thursday, June 23, Isaac Bruce appeared on Fox 2 in the Morning in St. Louis to talk about Reach Out St. Louis the high school dropout crisis. Later that day, he was joined by Rams' safety Oshiomogho Atogwe to tape some PSAs for the program that will air throughout the season.
In the United States, one in three students are dropping out of high school before graduation and one in two minority students are dropping out before graduation. To combat this high number in St. Louis, Mathews-Dickey Boys' & Girls' Club has launched an educational "safety net" for students at the district's four high schools most adversely impacted by the dropout crisis: Beaumont, Roosevelt, Sumner and Vashon.
Isaac Bruce and the Isaac Bruce Foundation have joined the fight to stem the high school dropout crisis by teaming up with Reach Out St. Louis. We look forward to the helping make this effort a national program.
There is an urgency to deal with the high school dropout rate, which increased 210 percent within the City of St. Louis between 2007 and 2008. Reach Out St. Louis is on a fast-track to identify and prevent potential dropouts as early as 6th grade. The program's firm foundation stands upon the credible research of the Bill & Melinda Gates Foundation-commissioned report, "The Silent Epidemic."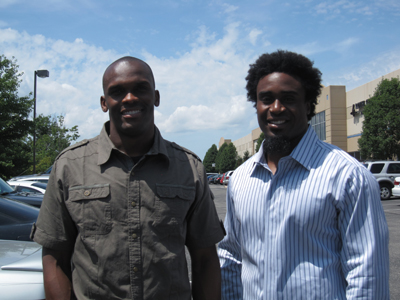 Reach Out St. Louis aims to keep students in school by connecting business, church, law enforcement and university resources, including counseling, mentoring and work-study programs. Each school is assigned a Mathews-Dickey resource coordinator to work with the principals to identify needs and connect students to services from every aspect of the community.
The high school dropout crisis affects each of us and there are many ways to get involved. Reach Out St. Louis is looking for tutors, mentors, and counselors. If you have time to volunteer, call Mathews-Dickey Boys & Girls Club at 314-382-5952 and ask for Reach Out St. Louis. Your time will go far in helping us make a change!


For more information, contact: Tiffani Wilson Burris, Isaac Bruce Foundation, 314-369-4074