NEWS
St. Louis Gateway Classic Sports Foundation Honor Isaac
On Friday, September 24, 2010 the St. Louis Gateway Classic Sports Foundation honored Isaac Bruce at the 2010 St. Louis Rams Coaches Luncheon with the Dick Gregory/Elston Howard Achievement Award. The awards program was held The Foundation on Dr. Martin Luther King in St. Louis.
The St. Louis Gateway Classic Sports Foundation was established in 1994. It is a non-profit organization whose goal is to help youth in our community by awarding full, four-year scholarships. The organization has given back approximately $8 million dollars to the St. Louis community through various programs. More than $2 million dollars in scholarship assistance has been provided to students who otherwise might not have attended a historical black college or university.
The Foundation's signature event is the Gateway Football Classic Football Game, which is held each September at the Edward D. Jones Dome in downtown St. Louis. The St. Louis Rams Coaches Luncheon is also part of the Football Classic weekend which includes a Dick Gregory Comedy Show, a parade, and various other events.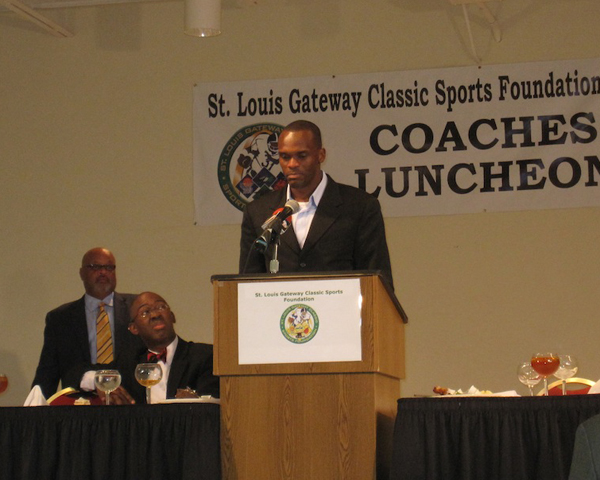 The award for which Isaac was honored is named after two prominent St. Louisans; Dick Gregory and Elston Howard. Dick Gregory was an outstanding long distance runner at Charles Sumner High School in St. Louis and later at Southern Illinois University at Carbondale. Mr. Gregory is world-renowned comedian, social activist and nutrition advocate.
For more information on the Isaac Bruce Foundation, visit www.isaacbruce.org or call 314-369-4074.