NEWS
Join Isaac Bruce at St. Louis Sports Hall of Fame Bar & Grill
Join Isaac Bruce at St. Louis Sports Hall of Fame Bar & Grill (formerly Pujols 5) in Westport Plaza on Friday, May 18 from 5-8 p.m. Bruce will be on hand to sign autographs and take pictures to raise money for the Isaac Bruce Foundation.
Twenty percent of all restaurant sales will benefit the Isaac Bruce Foundation and a minimum restaurant purchase of $10 is required for an autograph or photo. A donation of $25 per autograph and $10 per photo is requested. Cameras will not be provided for photos. Autographed photos of Bruce will be available or attendees can bring an item to be signed.
Come out for some good food and drinks for a great cause and stick around for autographs and photos! Cash, check and credit cards will be accepted. All donations are tax deductible. All ages are welcome!
Raffle tickets are available at Hall of Fame Bar & Grill or by calling 314-369-4074. There will be two chances to win raffle items that include a signed authentic Bruce jersey, two pregame field passes and two tickets to a Rams home game, a signed football, gift certificates and more! Winners will be drawn at 7:30 p.m. on May 18 at Hall of Fame Bar & Grill and another set of winners will be drawn on Saturday, June 30 at the Isaac Bruce Foundation's free football clinics. Winners do not need to be present to win. Tickets are available one for $5 or three for $10. Get your tickets now!
The Isaac Bruce Foundation focuses on health, wellness, nutrition, fitness and education. Through the foundation, Isaac reaches out to youth and teaches them at an early age the importance of a healthy lifestyle.
Please feel free to contact Tiffani Wilson Burris at 314-369-4074 or tiffani@isaacbruce.org should you need further information. Thank you for your support!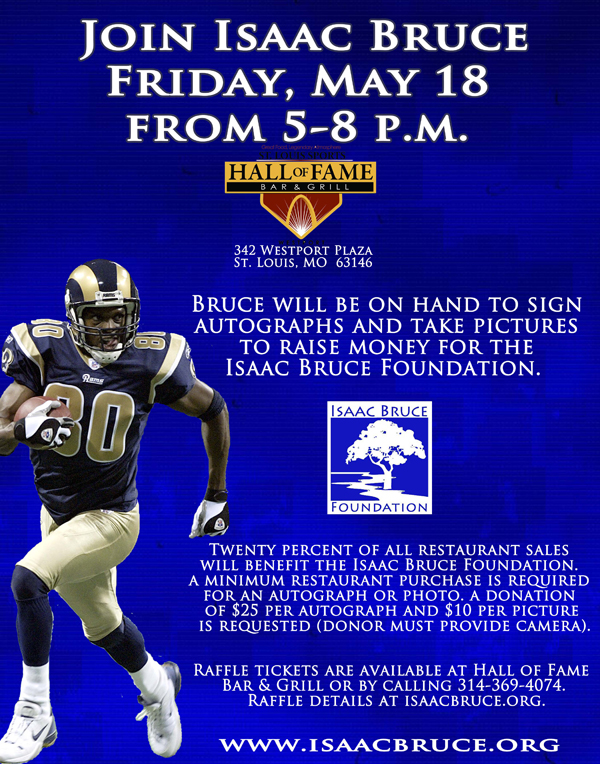 For more information on the Isaac Bruce Foundation call 314-369-4074.