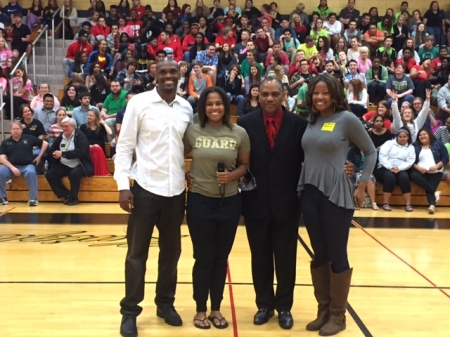 NO SURPRISE SHE DESERVED IT
http://fhsd.sharpschool.net/cms/One.aspx?portalId=995782&pageId=21957397
It was a truly pleasant surprise for Francis Howell North (FHN) High School student Kacey Tatum to win the Isaac Bruce Foundation Scholarship. And it was an even more pleasant surprise to have the award given to her by the former NFL superstar, himself. Her hard work and selfless community involvement came to fruition, as she earned a substantial scholarship for her college tuition from one of the greatest players in St. Louis Rams football history. And she received it in front of a couple hundred of her closest friends.
Click here to watch a video from the St. Louis Rams about the event. Click here to view a picture gallery of the assembly.

Isaac Bruce was a four-time National Football League Pro Bowler, is fourth all-time in receiving yards in NFL history, and helped lead the Rams' "Greatest Show on Turf" team win the Super Bowl in 2000. Despite all those accolades, Bruce was more impressed by the young career of Kacey Tatum, a student at FHN. She is the kind of student the Isaac Bruce Foundation strives to honor – those who make their mark both in the classroom and in their community.
In front of the senior assembly at FHN in April, Bruce came out to address the students. Being close to the end of the year, he stressed the importance of students buckling down to achieve success on their tests and final exams. And, being so close to prom, he also stressed the importance of buckling up and making responsible decisions. Then he said he had one more thing to mention that morning – that someone at FHN had won his foundation's scholarship. And in the gymnasium, one very surprised student heard her name called – Kacey Tatum.
Interviewed immediately afterward, Kacey was absolutely elated, "I was amazed…in shock. I'm speechless, honestly. I'm shaking right now. I'm so happy, I'm so grateful, and I thank God for blessing me with this opportunity. And I thank my mom so much for supporting me."
Isaac Bruce is helping Kacey realize her dream of getting to college. She'll be attending Grambling State University, in part thanks to his foundation. Bruce said, "This is a community that did a lot for me. It's important that we come back and continue to make an impact on St. Louis County, and just do what we do for kids. We've been doing it since 2008. It's very exhilarating, it's great to do. The kids enjoy it, and I enjoy it myself."
The Isaac Bruce Foundation scholarship is made possible by the Ameren Corporation. Ameren's Manager of Business and Community Relations, Brian Leonard, said, "It's a good thing to give back to the community and connect with a foundation like the Isaac Bruce Foundation. Every kid needs an opportunity to go to college, and if you hear Isaac's story about going to junior college and being about $300 short to get there, that's a fantastic achievement for him. So Ameren connects with these organizations and tries to give back to the community, so we can try and make a better way of life for our communities."
The parents of Kacey, Erica and Damon Tatum, were on hand to see the surprise, and the excitement certainly wasn't lost on them.
"It was just a dream come true," Erica said, "seeing things coming to fruition for all the hard work she's put in – whether it was community service or keeping her grades intact. She put herself in good position as a strong candidate for the award, but to see it actually manifest for her has been breathtaking.
​
"I'm very proud of Kacey, and her counselor (Amy Moore) was phenomenal. Kasey has a way of building relationships really well. Her teachers and the staff here are almost like second parents. Her counselor, even though it's her first year, Amy Moore, has been like another mother to her."
According to Erica, Moore kept Kacey updated on scholarship opportunities, gave her helpful advice, and just good old support.
"When (Moore) contacted me last week, she didn't tell me it was anything like this," Erica continued. "It was truly amazing, and I'm just overwhelmed."
Students all over the Francis Howell School District are working hard to reach their goals. It was truly an exciting day to see one student's dream come true. She persisted, and in the end earned a scholarship.
As Bruce said at the end of his interview, "Keep hope alive."