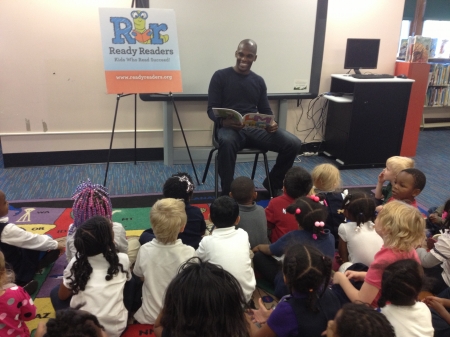 READY READERS RECEIVES 2000 BOOKS
The Isaac Bruce Foundation, in partnership with Ready Readers, donated 1,000 copies of Chicka Chicka ABC and 1,000 copies of LMNO Peas to local preschool children in October of 2013. Bruce was on hand to read the book, LMNO Peas, and give personalized copies to the 60 preschool children at Dewey School, a St. Louis Public School, on October 25.
The IBF will be donating another 2,000 books in the spring of 2014. Ready Readers is a St. Louis nonprofit organization with a mission to inspire preschool-age children from low-income communities to become readers. Currently, they have 550 trained volunteers reading weekly to more than 8,000 preschool children. They also will give more than 62,000 new books to the children and their classrooms this year. For more information on Ready Readers, visit www.readyreaders.org or call 314-564-8070.