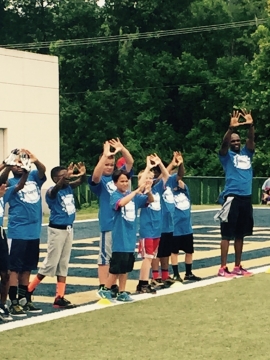 FREE FOOTBALL CLINIC REGISTRATION OPEN NOW!
Join former Rams' wide receiver Isaac Bruce for a FREE football clinic that will take place at Gateway STEM High School in St. Louis on Saturday, June 11. The free clinic provides youth the opportunity to work on their football skills, sportsmanship, and teamwork skills, while building self-esteem both on and off the field. Each participant will receive a T-shirt and refreshments as well as have the opportunity to meet Isaac.
Space is limited to the first 250 in each of two sessions (8-10 years from 9-11 a.m. and 11-13 years from 12-2 p.m.) so register early at www.isaacbruce.org! A confirmation email will be sent to the email address provided when your child is confirmed for the clinic.
The Isaac Bruce Foundation Football Clinics are sponsored by Mercy, Ameren Corporation, Edward Jones, Performance Chiropractic & Medicine, Homer Sedighi D.M.D, P.C., and the Isaac Bruce Foundation.
To register, visit http://www.isaacbruce.org/football_clinic_2016.php.
The Isaac Bruce Foundation is raffling off some great items to raise money for the Foundation! Prizes include a signed authentic Bruce jersey, a signed game football, and more! Winners will be drawn on Saturday, June 11 at 1 p.m. at the Isaac Bruce Foundation's free football clinics. Winners do not need to be present to win. Tickets are available one for $10 or three for $20 and can be purchased at the clinics or by emailing tiffani@isaacbruce.org.
More than 4,800 kids have participated in our free football clinics since 2007!
Isaac launched the Isaac Bruce Foundation in 2006 which focuses on health, wellness, nutrition, fitness and education. Through the Foundation, Isaac reaches out to youth and teaches them at an early age the importance of a healthy lifestyle with a focus on education.
For more information, visit www.isaacbruce.org. Be sure and "like" us on Facebook at www.facebook.com/IsaacBruceFoundation and follow Isaac on Twitter @IsaacBruce80.