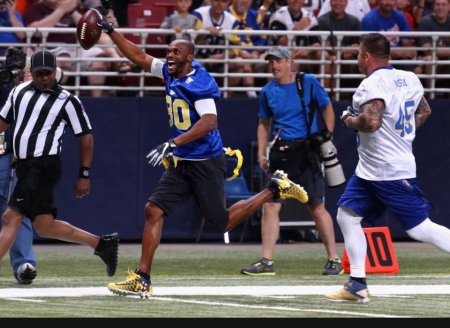 "GREATEST SHOW" RAMS GO OUT IN STYLE
http://www.stltoday.com/sports/football/professional/greatest-show-rams-go-out-in-style/article_7ec91a0c-cf5c-50f0-8637-d185ce6bafa3.html
By Jim Thomas
So where was the defense? It was just a rumor Saturday.
The running game was non-existent. Special teams were nowhere to be found.
Clock management was questionable at the end of the first half. And the second-guessers will have a field day mulling over the decision to replace Kurt Warner with Dave Barr in the fourth quarter.
Yeah, the offensive pyrotechnics were great, but there is plenty to work on for the St. Louis Rams.
"Had to fire the defensive coordinator at halftime," Mike Martz said. "I think he's at a bar someplace, drinking his sorrows away."
OK. Just kidding.
A good time was had by all in the Dome at America's Center, with Dick Vermeil's White squad outlasting Martz's Blue team 56-49 in the Legends of the Dome charity flag football game.
The departure of Stan Kroenke's Rams to Los Angeles remains a gut punch for football fans in the area. And with training camps opening around the NFL this week, it's another painful reminder that there will be no pro football in St. Louis this fall.
But except for some brief chants of "Kroenke sucks! Kroenke sucks!" late in the third quarter, all those bad feelings were put aside for a few hours. The crowd of 10,600 was smaller than hoped for by the Isaac Bruce Foundation, which organized the game, but the afternoon turned out to be a celebration, not a funeral.
"Knowing the St. Louis fan, it shouldn't have surprised me," Vermeil said. "But I was a little concerned. I actually mentioned it to Isaac months ago, that you might get a negative reaction. You might not get what you want. It cost a lot of money (to organize). So for the fans to come and do what they did today shows you what class they have as a city."
Hall of Fame defensive back Aeneas Williams has settled in St. Louis, so he knows first-hand what Rams fans here are going through.
"You see how disappointed fans are, how hurt some fans are, but to have the fans that turned out and put all that aside (was great)," Williams said. "This was a special time in St. Louis sports where we had a unique window of excellence with a bunch of unselfish players."
More than three dozen former Rams players were on hand for the game, most from the Greatest Show on Turf era of Super Bowls and touchdowns, touchdowns and more touchdowns.
Tiffani Burris, who heads Bruce's foundation, didn't miss a beat in organizing the event. Player introductions were done with Led Zeppelin's "Kashmir" playing on the stadium sound system, just like in the glory days.
When the man of the hour, Bruce, was introduced, "Whoomp! (There it Is)" was played — sung in these parts as "Bruce! (There It Is)"
There were flames shooting up from the corner of the southeast end zone as each player was introduced. (No, the turf didn't catch on fire this time.) And retired Navy Petty Officer Generald Wilson, a legend of the Dome in his own right, belted out the national anthem.
Loaded: 0%
Progress: 0%
0:00
In the locker room before the game, there were even six dozen Krispy Kremes — four dozen glazed, two dozen chocolate — for the Donut Bros. and friends.
But times have changed. Offensive linemen Adam Timmerman and Andy McCollum, aka the Donut Bros., are thin enough to play tight end these days. They look more like the Kale Bros. as they raise families and approach middle age.
"We're fit and trim," Timmerman said.
Once the game started, the teams scored more touchdowns in two hours than recent Rams teams managed over a couple of years in the Dome. There were TDs on 15 of the day's 17 possessions. Warner and Marc Bulger looked fantastic throwing the ball.
"This shows how unimportant coaching is," Vermeil said. "You see those quarterbacks throw the ball. It's amazing."
Unofficially, Bulger must have been about 73 of 76 for 700 yards. He had to be fibbing last week when he said he hadn't picked up a football in years.
Just about everyone in uniform was on the receiving end, from mainstays Bruce, Torry Holt, Ricky Proehl and Az-Zahir Hakim to kicker Jeff Wilkins and punter Sean Landeta.
Wilkins, already a grandfather back in his hometown of Youngstown, Ohio, was one of the day's most productive pass-catchers. "I think he missed his calling," Bulger said.
But late in the game, Wilkins basically got tackled by Chris Massey after a reception and suffered an ankle injury. He had his left foot wrapped afterward. There was irony there, because Massey served as Wilkins' long snapper for years on extra points and field goals.
It was just one example of the competitive juices flowing, fun outing or not.
"You knew it was gonna be competitive," said linebacker Mike "The Tackle" Jones. "Isaac's competitive. Torry's competitive. There's a lot of guys out here that don't like losing."
Williams, for example, wasn't going to play because of a sore ankle, but there he was lined up in press coverage at the start of the game.
"When you get around your guys, and guys like Dre' Bly start encouraging you, you just get out here and you get going," Williams said.
There was enough athleticism and natural talent on display, even with most of the players in their 40s, to make you realize that what happened with the Greatest Show was no fluke.
But even with all the star power on display, let it be known that the last Rams touchdown scored in the Dome came on a keeper by Barr, who played in two games and completed five of nine passes for the inaugural 1995 St. Louis team. It was his only season with the team.
Legends of the Dome reunites fans with 1999 championship Rams team
The Legends of the Dome charity football game brought fans up close with many players, coaches and staff from the Super Bowl XXXIV championship team on Saturday for a fundraiser benefiting the Isaac Bruce Foundation. Greats such as Isaac Bruce, Torry Holt, Kurt Warner, Ricky Proehl, Orlando Pace, Mike Jones and a host of others were on hand for the four-quarter flag football game in the dome stadium that was their home field.