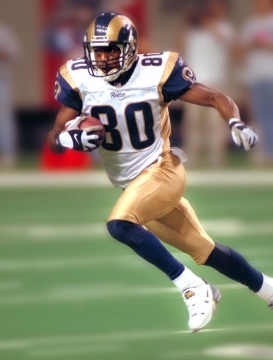 CLASS ACT BRUCE MAKES CONVINCING CASE FOR HALL OF FAME
http://www.stltoday.com/sports/columns/ben-frederickson/benfred-class-act-bruce-makes-convincing-case-for-hall-of/article_624f7f2b-ca03-50fd-8115-e8c950244788.html
By: Ben Frederickson
Isaac Bruce won't get the chance to address the room that decides if he's worthy of The Hall.
But I wondered, what would he say?
The St. Louis Rams legend is again one of 15 modern-era finalists for the Pro Football Hall of Fame. For the second year, the selection committee can discuss his case during Super Bowl weekend, as voters trim the field to 10 before they select a maximum number of five for the class of 2018.
Last year, Bruce didn't make the cut from 15 to 10. This year, he and fellow repeat finalist Terrell Owens welcome Randy Moss to the pool of eligible receivers. Two receivers have never entered together, let alone three. You see the rub.
I wanted to hear Bruce's hypothetical pitch.
He delivered.
Expertly walking that fine line he has always balanced — the one between extreme confidence and boastfulness — Bruce made a compelling case the committee hopefully spends some time considering.
"Homework is important," Bruce said during the discussion.
So, let's assign some to anyone who thinks Owens and Moss should automatically overshadow Bruce in the Hall of Fame discussion.
MATH
Sixteen seasons. Four Pro Bowls (and it should have been more). Two Super Bowls. One ring.
Bruce ranked second all-time in receiving yards and fifth all-time in career receptions when he retired in 2010.
He still ranks 13th in receptions (1,024) and 12th in receiving touchdowns (91) and maintains his grip on fifth place in receiving yards (15,208).
There are 25 receivers in the Hall of Fame. Among them, Bruce ranks second in receiving yards, fifth in receptions and sixth in touchdowns. He is one of six players in NFL history to accumulate 15,000-plus receiving yards AND 90-plus touchdowns.
He ranks 12th all-time in receptions in a single season (119 in 1995), and fifth all-time in receiving yards in a single season (1,781 in 1995). Owens and Moss never climbed that high.
Between his rookie season in 1994 and his final season in 2009, Bruce trailed only Hall of Famer Marvin Harrison in targets and receptions. But he trailed no man in receiving yards during that span. None.
Bruce produced eight seasons with 1,000-plus receiving yards. Owens had nine. Moss had 10.
Bruce averaged 14.9 yards per catch during the course of his career. That's a first down and a half every time he caught the ball. For 16 seasons. Moss beat that, barely. Owens didn't.
HISTORY
The Rams' all-time leader in receptions, receiving yards and touchdowns has the numbers.
He also has the moments.
In his first start, he blocked a punt, recovered it, then caught a touchdown pass on the next play to help beat the Packers.
In 1999, he caught four touchdown passes to lead the Rams to a win that snapped a 17-game losing streak to their rival 49ers.
And then there's that 73-yard, game-winning touchdown catch in Super Bowl XXXIV.
"I have always believed that Hall of Fame players separate themselves because of their ability to continually make big plays in critical moments to win games," Hall of Famer Dan Dierdorf once said. "The list of those moments for Ike is long."
PHYSICS
Bruce's route-running alone should boost his candidacy for Canton.
He mastered time and space. He could go deep one play, then slice you with a slant route the next. He transformed the route tree into a torture device for defenses.
"He was by far, I think, the best route runner that probably ever played football as a wide receiver," longtime defensive coach Jim Haslett once said.
CIVICS
Bruce has never criticized Moss or Owens.
But their polarizing histories are well-known, and the effect of their actions on their teams will be considered during the discussion of their Hall of Fame credentials.
If one player's me-first approach hurts his chances, shouldn't another player's reputation as a locker-room plus help his chances?
Bruce never ripped into a coordinator or quarterback. This sentence is likely the first to include the words "Bruce" and "distraction."
"I didn't feel good doing that," Bruce explained. "I didn't want to have to go back and apologize. So I chose to encourage. Encourage, or say nothing. That was me."
Bruce's dogged work ethic has become lore. Long is the list of receivers he has mentored. If any of this stuff matters to the committee, it has to help Bruce's case.
"His character makes him a perfect role model for the NFL," Mike Martz once said. "Kind, unassuming, unselfish, and loving. Ironically, those traits hurt him (as a candidate) because he refused to promote, and sell himself as a player."
DEBATE
Let's debunk some of the biggest Bruce myths.
Bruce was on a great team, so maybe he himself wasn't that great ...
Correction: He was the offensive "catalyst" for the Greatest Show on Turf, one of the NFL's best offenses. That's not my word. It's Hall of Famer Kurt Warner's.
Bruce would not have been as productive without Warner ...
Objection: Bruce played with 22 different quarterbacks and eight different head coaches during his career. He balled out with Tony Banks. Come on.
Bruce shouldn't get in before Moss and Owens ...
Question: Why not? They scored more touchdowns. I get it. But revisit the other numbers. Factor in the big moments, the Super Bowl. Realize that Bruce doesn't deserve to be in limbo due to the debate Owens and Moss created.
Besides, there is no rule that says multiple receivers can't enter together. Wouldn't including Bruce in the first two-receiver class be a nice tribute to the pass-catcher who sparked an offense that revolutionized the passing game?
Something to consider.
Class dismissed.